Information
Agreement Signed with Toshima Village, Tokyo, to Resolve Water Crisis
SoftBank Corp. ("SoftBank"), WOTA Corporation ("WOTA"), Hokuryo Co. Ltd. ("Hokuryo"), and Toshima Village, Tokyo, have signed an agreement to verify an off grid(*1) housing to create a new water supply system to solve Toshima Village's water crisis.
Surrounded by the sea, Toshima Village faces a variety of water-related issues, including financial pressure on the water supply business due to high water supply costs (*2), water outages due to breakdowns of desalination equipment, drought risk due to dependence on limited water intake sources without rivers or large water storage facilities, and lack of facility management personnel. In addition, when building new housing for residents and prospective residents, it is necessary to procure materials and human resources from outside the island, resulting in high construction costs and a long construction period.
Therefore, an agreement was made between Toshima Village and the three companies to resolve issues related to water and the living environment in Toshima Village. An agreement was made to implement WOTA's "small-scale decentralized water reuse system (*3)" into a housing module (*4) ("off grid housing module") and create an off grid housing that eliminates the cost and construction period required to develop water infrastructure. The main body of the off grid housing module developed by Hokuryo is equipped with an off grid system that can supply electricity without connecting to an existing infrastructure. Moreover, by installing WOTA's "small-scale decentralized water reuse system" and Softbank's communication devices (such as a mobile Wi-Fi router), users can maintain a living environment without relying on infrastructures.The three companies aim to solve the problems faced by Toshima Village, such as high water supply costs, unstable water supply, and difficulties in developing housing, which is particularly serious on remote islands. We also strive to build a model case for other remote islands and regions across the country that face similar challenges.
In this verification, off grid housing modules will be provided to workers and residents who wish to use them for a certain period to verify specifications, operational methods, availability, and other factors suitable for use on the island. To resolve the issues in Toshima Village, we will use the verification results and consider implementing the "small-scale decentralized water reuse system" in existing public facilities and residences in Toshima Village, as well as expanding the system to undeveloped residential areas.
*1 Independent from infrastructure such as water supply, electricity, and telecommunications (wired network)
*2 Expenses required to produce one cubic meter of tap water
*3 The system is currently under development by WOTA for commercialization.
*4 Container-type living facilities can be easily installed and moved once a residential site is secured.
●Roles of Each Company
・SoftBank: Overall supervision of the verification, communication environment provision, and water use measurement devices for each application.
・WOTA: Provision, operation, and management of the small-scale decentralized water reuse system and collection and analysis of related data
・Hokuryo: Provision, operation, and management of housing modules, and collection and analysis of associated data
●About WOTA's "Small-Scale Decentralized Water Reuse System"
The small-scale decentralized water reuse system is the world's smallest water reclamation system developed by WOTA. The system collects all wastewater, recycles it through membrane treatment, biological treatment, disinfection, and other processes, and safely circulates it for reuse.
The system uses a proprietary "water treatment autonomous control system" to flexibly control water treatment in response to fluctuations in domestic wastewater, thereby achieving advanced management at the level of large-scale treatment plants. The system also maintains water safety at the WHO-standard bacteria and virus removal rate. It is capable of recycling a wide variety of domestic wastewater(*).
(* Evaluation under WOTA's experimental environment)
●About Hokuryo's off grid Housing Module
Based on the disaster relief experience in the Great East Japan Earthquake, Hokuryo developed a housing facility to safely and comfortably accommodate patients using home medical care and other disaster victims who need extra support. It is a cube-shaped housing facility with high thermal insulation, and it can be easily installed and moved. It has an off grid system that can independently supply electricity without connecting to existing infrastructure. The 40 feet model, in which the infrastructure system space and living space are combined into a single unit, and the 10 feet model, in which each 10 feet unit is connected at the installation site to create a single living facility, are available. Users can select the model according to the installation site's land, road, and other conditions.
<Image of the 10 feet model to be installed in Toshima Village>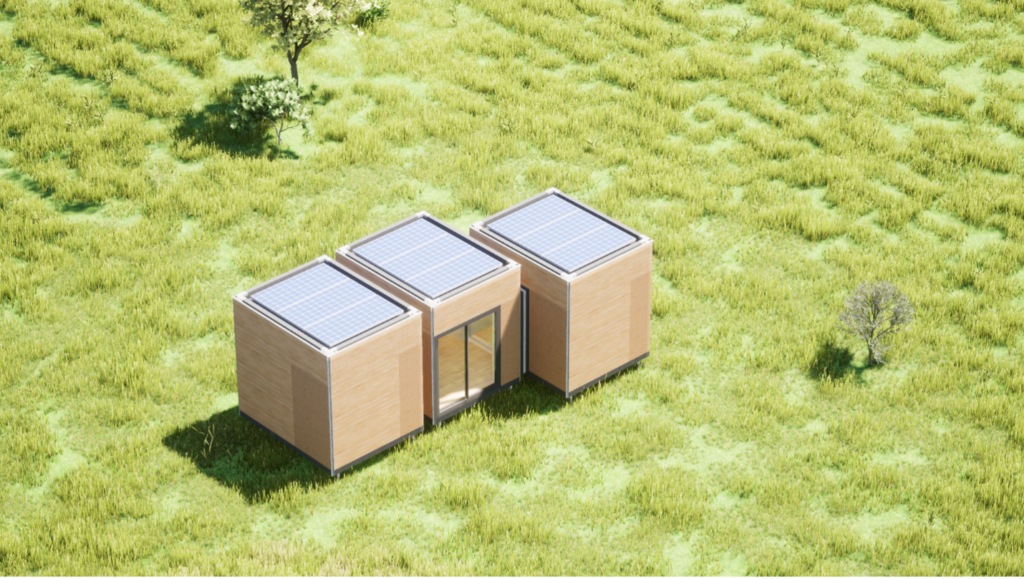 ・Wi-Fi is a registered trademark of the Wi-Fi Alliance.
・SoftBank, the company's name, and the logo are registered trademarks or trademarks of SoftBank Group Corp. in Japan and other countries.
・All other company names and product/service names mentioned in this press release are registered trademarks or trademarks of their respective companies.