A hand wash stand that doesn't need a plumbing
WOSH model zero
WOSH can be installed in places where there is no running water.
This is a completely new type hand-washing station.
In cafes, restaurants, offices, and around cities.
You can wash your hands anywhere and anytime.
Safe and secure for everyone.
We, WOTA, are committed to confronting the water supply problem and providing safe and reliable products.
Our products feature our unique and innovative technology.
Advance reservations are limited to 600 units.
Scheduled to ship in November 2020.
22,000yen (excluding tax) / month
Special price to support Covid-19 containment efforts.
Saving the world.
Providing a new solution for hand washing.
Hand washing is the most efficient and inexpensive way to stop the spread of germs.
However, people can only wash their hands in a limited number of places.
In developing countries, for example, three billion people are unable to wash their hands due to a lack of water supply infrastructure.
WOSH is an innovative solution for hand washing that provides cleanliness and comfort anywhere and anytime.
It features our unique water circulation technology, which we originally developed for showers and other products deployed during disasters.
The New Normal for hand washing. The Next Level of public hygiene.
Making the world more sanitary and pleasant.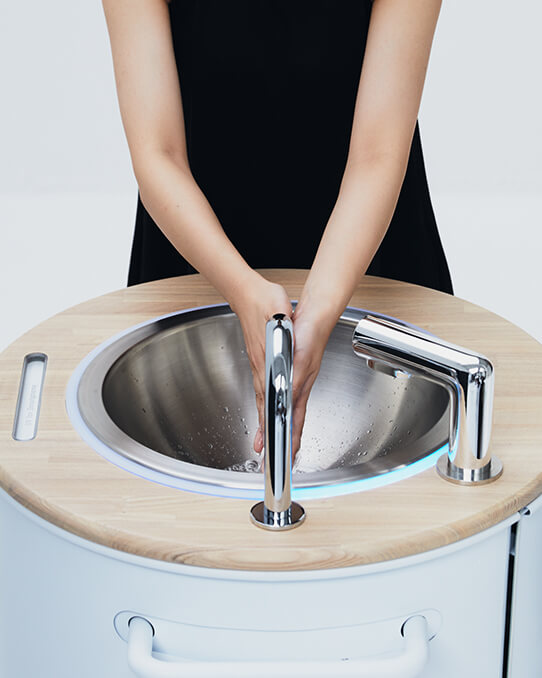 ALWAYS CLEAN
Keep your hands and your phone clean with our technology.
We provide a safe and secure environment.
To ensure the safety and quality of the water supply, WOTA uses a unique 3-stage technology: membrane filtration, chlorine addition, and deep ultraviolet irradiation.
The quality of the supplied water is completely hygienic and complies with the WHO drinking water guidelines and the national drinking water standards of each country.
It is also equipped with deep ultraviolet radiation feature for smartphones, which kills more than 99.9% of bacteria from the surface of the phone within 20 seconds while washing your hands.
EXPERIENCE
A New Hand Washing Experience
NO NEED WATER SUPPLY

You can wash your hands with clean water without access to water supply.

No need to connect to the water supply.
All you need is a power supply and 20 liters of water, and you can wash your hands with clean water anytime and anywhere!

GENTLE HAND WASH

Soft-water hand-washing experience that is gentle and soft on your skin

The continuous supply of fine soft water makes the water soft and less taut at the end of washing, making for a comfortable hand wash.

CLEAN YOUR SMARTPHONE

A smartphone which is always in your hand
can be cleaned with a deep UV light.

Even if you wash your hands, touching a dirty smartphone can immediately contaminate clean hands.
It has a 20-second deep ultraviolet light exposure feature to clean your smartphone before washing your hands.

TIME FOR SAFETY

Anyone can wash their hands properly.
Safety ring counting 30 seconds.

When you start washing your hands, the top surface gently glows and counts for 30 seconds, which is the advisable hand-washing time.
Even children can have fun while washing their hands.

SUSTAINABLE

We've incorporated upcycling.
Drum housing design

The case is made of a drum that is designed to be environmentally friendly.
By upcycling both water and drums, we are proposing a new way of manufacturing in a recycling society.
SCENE
Safety and security for a wide range of customers from restaurants to retail stores.
The design is based on a drum and will blend in with any space.
OFFICE

It is placed at the entrance to protect the safety and security of employees and visitors.

RESTAURANT

In places for eating or drinking, we ensure hygiene at the entrance. We make sure that customers can enjoy their meals and employees can feel safe.

SHOP

By placing the hand-washing stations at the entrance of a store or a shopping center before people touch the products, customers can enjoy shopping with a peace of mind.

SALON

In beauty salons and nail salons where face-to-face contact is unavoidable, customers are asked to wash their hands when they enter the salon.
AR

See how the products are arranged using 3D model and Augmented Reality. Visualize how the hand-washing station can be placed in your store or at home to help you plan a layout.
For use with Safari on iOS 12 or later or ARCore-compatible Android devices.

Specifications/Pricing Plans/Frequently Asked Questions

Detailed product information and pricing plans.
WOSH model zero
Can be placed anywhere with no water connection required.
Smartphone sterilization feature
Subscription plan comes with our full support.
22,000 yen (excluding tax) / month
We are offering a 24-month subscription plan.
※There is a separate fee for consumables and installation. Please refer to the pricing plan for details.
Advance reservations are limited to 600 units.
Scheduled for release in November 2020