A water reuse
hand-wash stand
WOSH
At WOTA, we've distilled years of research
to make it possible to wash your hands anywhere
with technology that is people and eco-friendly.
A hand washing stand
that reuses water and
is people and eco-friendly.
WOSH reuses more than 98% of the water it uses.
Set up is simple — even in places with no water supply.
Gently cleanse your hands with soft water while your smartphone is sterilized.
WOSH offers an entirely new hand washing experience and a soothing way to achieve peace of mind.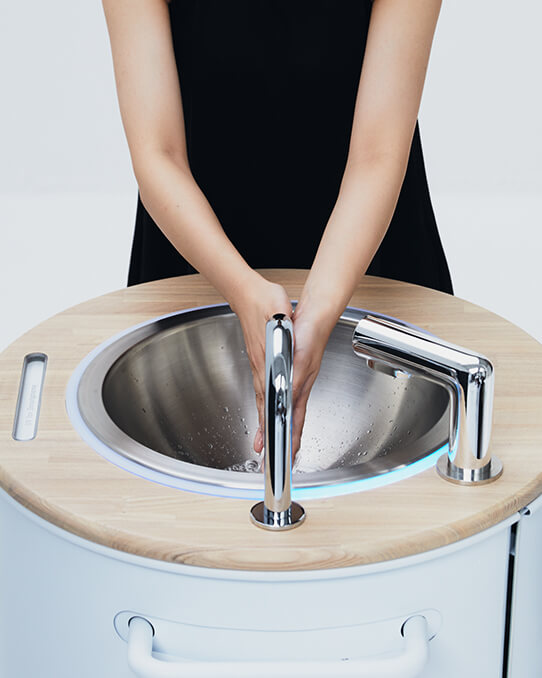 SUSTAINABILITY

Use less water
for more people.
Reduces water use by 98%

Water is reused within the stand after use.
Just 20 liters is enough to wash more than 500 times. WOSH cuts down waste water and is mindful of sustainability.

CORE TECHNOLOGY

Custom AI and water
quality sensors ensure
high water quality

Viruses and impurities are removed through three filters. Sensors feed AI that constantly monitors and controls the water quality and system.

SUPPORT YOUR HABITS

Glowing ring supports
proper hand washing

A pleasing ring of light appears when you start washing your hands, intuitively counting down the recommended 30 seconds. Naturally form proper hygiene habits.

INSTALL ANYWHERE

WOSH can be set up
anywhere there is
a power source

No water supply, drain, or construction required. Just fill WOSH with water, plug it in, and it's ready to go. You only need to replace filter cartridges and other supplies.

STERILIZE YOUR SMARTPHONE

A clean phone
for clean hands.
99.9% sterilization in just 30 seconds

Automatically sterilize your smartphone while washing your hands. Deep ultraviolet (UV-C) light disinfects every corner of your phone.

GENTLE CLEANING

Soft water offers a pleasant washing experience

WOSH's water is soft and smooth. Gentle to the touch and quick to penetrate the skin, users often mention how nice it feels.
Use cases
WOSH's upcycled drum design fits perfectly in any setting.
From restaurants, retail stores and children's playgrounds
to offices and medical facilities,
WOSH can bring peace of mind to any space.
MEDICAL
WOSH offers a gentle alternative to the harsh effects of alcohol disinfection, not only for elderly residents and visitors with sensitive skin, but also staff whose hands are impacted by daily cleansing.
RESTAURANT
Diners can enjoy their meals in comfort when they wash off dirt and pathogens with soap before and after eating.
KIDS AREA
WOSH offers a new experience for children who can enjoy the fun of washing their hands together at the entrance to facilities, instead of having to go to the restroom.
OFFICE
Hand-washing stands can be installed for workers at workplaces such as distribution centers and factories where hands get dirty easily, creating a more comfortable and hygienic working environment.
SHOPPING MALL
Providing shoppers with a place to wash their hands when they enter a store ensures a comfortable and reassuring shopping experience.
TECHNOLOGY
WOSH removes more than 99.9999% of viruses and bacteria using three filters (two activated carbon and one RO membrane), deep ultraviolet rays and chlorine disinfection.
In addition, an autonomous control system for water treatment that combines multiple proprietary embedded sensors and AI, constantly monitors and controls the water quality and system, notifying the user of any maintenance issues or problems.
These technologies enables the WOSH to comply with WHO Guidelines for Drinking-water Quality and provide safe, clean water. Third-party test results are available below.
The autonomous control system for water treatment also enables visualization of WOSH's condition and the number of hand washings. By visualizing individuals' hand washing at the level of a space or city, WOSH changes the way public health is monitored.
Report No: 2105219-001-1 (View the report in a new window)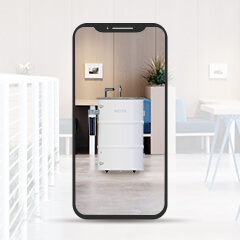 AR
Use AR to see 3D models of our products in your space. You can try placing them in your store or home to help you imagine your layout. *Please use Safari on iOS 12 or later, or Android with ARCore support
View AR
FAQ
About the product

Can WOSH be installed outdoors?

WOSH can be installed in semi-outdoor locations where it is protected by a roof from rain.

Is the quality of the reused water safe? Are there any test results from third-party organizations?

Safety is ensured. We have released the results of third-party testing conducted in accordance with clause 51 of the water quality standards as defined in the Water Supply Act.

Are SARS-CoV-2 and other viruses and bacteria removed from the reused water?

How long does it take to clean hands?

10 seconds of scrubbing and 15 seconds of rinsing with running water is said to remove 99-99.9% of pathogens.

Can I drink the water? Can I use it for gargling?

Please refrain from gargling or drinking the water. Although the water poses no health risk, the system utilizes reused water and was not designed for drinking.

Is there anything that should not be poured down the drain?

WOSH is for hand washing only. Pouring other wastewater down the drain may compromise water safety or cause the filter or pump to break down and require repair.Examples of items that should not be disposed: oil; alcoholic beverages; leftover coffee, tea, juice, etc.; seawater; cleaning agents other than neutral detergents (e.g. mildew remover); paints/organic solvents; dyeing materials such as dyestuffs/dyeing aids; wastewater or sewage; phlegm; blowing your nose; vomit; excess hand soap or chlorine tablets; soap other than the specified kind.

How much does the product weigh?

WOSH weighs about 80 kg with the water drained, and about 100 kg when filled. The body is equipped with casters with stoppers, so it can be easily moved by one person.

Other

Is delivery limited to Japan?

Currently, only domestic delivery is available.

I have not received a reply to my inquiry.

We apologize for the inconvenience. It can take several days for a representative to reply, depending on the situation and content of the inquiry. Please contact us again if you have not heard from us within a week or if your inquiry is urgent.